There were two amusing incidents that followed our return to the UK, one quite shortly and the other much more recently.
If you've been following this series of posts about our train-riding adventures in eastern Europe you'll recall that our journey through Poland wasn't straighforward at times due to our failure to obtain a copy of the Polish Railways (PKP) timetable. (If you haven't been reading it you can start here.)
Mark, who worked for British Rail in London at the time, had tried everything he knew to get hold of one, but without success. His luck changed after we got home, but I'll let him tell the story in his own words:
The planning was all done without a current PKP timetable. I'd tried everywhere in London to get one: the official Polish travel agency, Thomas Cook HQ, various BR offices. They were like gold-dust, it seemed. It was only after we got back home that I finally popped-in to the office at Paddington that produced BR's own European Timetable (nothing like as comprehensive as Thomas Cook's but designed for BR travel centre staff and therefore easier-to-read). I casually mentioned my futile efforts to locate a copy of the priceless PKP timetable and he replied "Oh, those?", opening a cupboard that was bulging with the damned things. They only needed one but got sent at least a hundred and didn't know what to do with them all!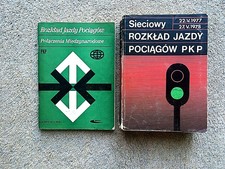 Just what we'd been looking for!
The second incident occured more or less as I was writing the last post in the series a couple of days ago. Hilary was clearing out our garden shed and disturbed a pile of carrier bags full of old papers and stuff that had been put to one side many years ago presumably before being taken for recyclying. After putting them back in place, she turned round to see some scraps of coloured paper on the floor.
They were old banknotes - to a total of 1,290 złotys! In 1985 they would have been worth a total of £7.91 at the official rate of exchange (and at least 5 times more from the man in the Polish street) but only in Poland, as the currency was then unconvertible into harder, western money.
Polish banknotes from 1985. I particularly like the "Proletyariat" one top right.
They had survived not only the journey back from Poland, but 35 years in various lofts and cupboards and at least six house moves. I had no idea I still had them as I thought I'd given away all my old Polish currency to a Manchester pub barmaid in a vain attempt to impress her back in 1985.
Mark and I revisited the DDR in 1986 and I went again with another mate in 1988, not long before the world changed and socialist Europe disappeared completely. The photos from those later trips survive, but as nobody kept a diary the memories seem to have disappeared as well. By then, we were also much more experienced in travel in the east so the incidents and anecdotes were fewer and it all seemed a lot more "normal".
There is, however, just one more tale to tell and one which illustrates the difficluties placed in the traveller's way by the DDR's bureaucracy, but also the fact that there were sometimes ways round it.
To be granted a visa to visit the country it was necessary to book hotel accommodation in advance and to inform the authorities where one would be staying. On our 1986 trip this proved a problem as we wanted to spent a couple of days in the north of the country and the rest of the time in the south-east, but didn't want to waste a day travelling between the two as well as spending a night somewhere we didn't particularly want to be.
I was very aware that in order to obtain a visa it was necessary to book a hotel for each night of our stay, but I thought I'd try my luck by asking the friendly clerk (who was almost certainly a Stasi official) at the DDR Travel Agency in London what were the chances of a derogation for one night's sleeper travel .
He thought carefully and eventually replied that if I could book the sleeper myself and supply proof of the booking, he would be prepared to submit the evidence with my visa application. Thus he very cleverly transferred responsibility (1) for booking the sleeper from himself to me and (2) for issuing the visa from himself to the DDR Consulate in London (and thus to the Foreign Ministry in Berlin). It was as if the experience of the Nurnberg Trials had taught every German to make sure they could blame everyone but themselves if things went wrong! His assumption was obviously that because he was the only person in London authorised to book internal sleepers in the DDR, I would realise my idea was impossible and we'd end-up spending a (very expensive) night in Berlin.




But I had a trick up my sleeve: I worked at the time at Railfreight International, the European train-ferry freight operation, and I had a friendly contact on the passenger side who was able to telex reservations, I think via Deutsche Bundesbahn HQ in Frankfurt-am-Main, but then relayed to Deutsche Reichsbahn HQ in Berlin and thus to the DR Reiseburo in Stralsund. After some delay the reply came back (no doubt after they'd checked with HQ in Berlin) that they could only book me on a sleeper if I already had a visa. Catch-22!




At this point most people might have given up, but again I tried my luck, with nothing to lose if I failed. I wrote back with a carefully-worded "clarification" that the DDR Consulate in London "required" the reservation to be confirmed in order to be able to issue a visa. The word "required" might have been mistranslated as an instruction from the Consulate in London rather than a request from me, but miraculously it worked! I finally got a telex back confirming the reservation and the DDR Consulate duly issued the visa. All backs were covered!
The friendly slleping car attendant on the Stralsund-Leipzig express.
Or was he a Stasi agent?
Perhaps the friendly DR-Schlafwagengleiter on the train from Stralsund, who seemed so easy-going, had been specially-briefed to monitor our activities and report-back to Stasi HQ in Berlin - or am I being paranoid again?